4 tags
3 tags
How to love a family member when they're in a...
I WISH my mother had read this letter. Heck, I STILL wish she'd read it. And take it absolutely to heart. I am still so sad that my mother's bigotry and inability to love me without condition has destroyed our relationship. From the Christian advice blog of John Shore, a Christian reader asked what she should do about her sister, who had just come out as poly. Here's the...
3 tags
3 tags
Are relationships like language?
I saw this quote in one of my social networking groups this morning:  "A living language responds to the aspirations and needs of each generation but the changes should enrich, not impoverish. We debase our language if, while inventing new words to meet new techniques, we lose that nice precision of definition in vocabulary and construction which makes English an exact as well as a...
4 tags
So worn down...
I thought my character trial as a parent ended with my divorce. Nope, it's all been dredged back up again in our current situation. All of it. Will I ever just be able to put that chapter behind me and move on? And will I EVER get past the feeling that I need to prove that I'm not the person my parents and ex said I was? I have an incredible chosen family and my life is so amazing I...
3 tags
On my 15 microseconds of fame...
I got to be in a commercial! I was cast for a photo shoot for an ad campaign, and then my family and I got to be the stars of an actual commercial for the same company.  We're rock climbers, and so this morning at 6 a.m., we went to our climbing gym, went through hair, wardrobe and makeup, and then went into the gym. It was a really interesting and fun experience. I got a HUGE laugh out...
6 tags
Ah, the idiosyncrasies of life...
I decided it was time for an update, to address why I've been fairly inactive on here for a while. Those of you who have been reading long enough, or who have read back through previous posts, know of my divorce and custody battle, and how being openly poly was used against me in an attempt to assassinate my character and malign my fitness as a mother. That was finally wrapped up in July...
2 tags
On judgment...
Seen in one of my online poly groups: "I had a conversation with my mom today in which it came out that I had a boyfriend. Her reply: "Life's too short to be judgmental. And what I mean to say is life's too F***ing short. I just want you to be happy." I wish that had been my mother's outlook, rather than what ended up happening. I just cannot understand the...
4 tags
Appreciating life...all of it
The last two years have had most of my highest highs, and nearly all of my lowest lows. You could not induce me to relive them, not for all the money in the world. But…I have a bit of dissonance, in that I also wouldn't, COULDN'T, choose to not experience them were that an option. The story of the Vinegar Tasters applies, here. I could choose to see my experiences as sour, as...
1 tag
Anonymous asked: New to the idea of polyamory - what do you call a polyamorous relationship where everyone involved is in a relationship with each other person? ex. a guy who has a girlfriend who has a girlfriend who is also with the guy. just curious, thanks!
6 tags
I must not fear
Just had a realization about myself that explains a HELL of a lot. I tend to live life in the moment. While I definitely plan ahead, and GREATLY prefer the stability of predictability, I've learned the hard way that life doesn't pay attention to your expectations and kinda does its own thing.  So I've learned to enjoy what's right in front of me, enjoy the hell out of it,...
3 tags
I'm out! :P
Well, I'm now officially out at work. My coworker's response? "Well slap my ass and call me Sally!" *dies laughing and iz ded* I just had one of my partners in the office, showing him around. After he left, my coworker asks me, "Is that your guy?" with a big old smile on her face (since she knows I'm about to get married). And I answered, "Well,...
3 tags
Exponential love
I am surrounded and held close by so much love; memories of loneliness and pain are seen, dimly, fleetingly, through dusty panes barely piercing the gloom of an ill-lit room.
3 tags
On playing hard to get
Awesome post here: http://feminspire.com/why-i-never-play-hard-to-get/ Above and beyond the fact that "playing hard to get" plays directly into, and reinforces rape culture, there's another consideration: If you're not being yourself, your love interest isn't into YOU, they're into who you're pretending to be. And eventually, the real you will out. Why not...
4 tags
We did it!
When I realized, at 8 years of age, that I was emotionally and physically attracted to girls as well as guys, I looked ahead at my future and believed it was bleak. I thought I could never be accepted in general society because of it. I thought I would never be able to be openly in love with a person the same gender as I. I thought I would be limited in who I could marry. And I never,...
4 tags
Unconditional love →
Oh. My. Gods. Bawling, this time with joy. THIS is what unconditional love looks like. I'm looking at you, woman-who-birthed-me-who-has-lost-the-right-to-be-called-my-mother.
Anonymous asked: How do you start a poly relationship? I want to start one with my boyfriend but I guess I am just scared he will run off with her.
Anonymous asked: Hoe do you know if polyamory is right for you?
Anonymous asked: If you wouldn't mind, could you explain more about the Guardian Ad Litem and how they investigated your ex's allegations? I'm sorry if I'm bringing up bad memories, I'm just extremely curious about that part of the process.
Anonymous asked: Is your zodiac sign Taurus?
7 tags
Time marches...
Yesterday marked one year of living here in the Seattle area. I had mostly forgotten the significance of the date; this was an incredible weekend with my sweetie and the kids, then a birthday party for one of my chosen family…but last night, after I'd finally flopped into bed and the whirlwind stopped, the heartache all came flash-flooding to the surface. This might sound silly, but it felt like...
4 tags
Closing a chapter
From a FB post of mine this morning: "I am off to the courthouse to witness the death of promises. A moment of silence, then…onwards to an even better vision, dreams and hopes for the future." Today was the day I've been both hoping for and dreading for months: my divorce from Drake was finalized. One of the most painful chapters of my life (and that's SAYING...
4 tags
And now for something you'll REALLY like!
And now, for your enjoyment, MP3s/ringtones made from me laughing my ass off in Coney Island, long http://ow.ly/bpo3f and short http://ow.ly/bpo4Y.
1 tag
Anonymous asked: Awhile ago you posted an article about a couple who had gotten a divorce and said that you were hoping to get to that point with your ex and his new partner. Has anything gotten better with them since then?
6 tags
On serendipity
I wrote this blog post towards the end of February. I wrote THIS blog post about two weeks later. About ten days after THAT, I had my first date with my beloved, referenced in the second post. I have chills. "Wherever you are, whenever it's right, you'll come out of nowhere and into my life." And yes, it's amazing. That person, who I'll refer to as Raven on this blog, has more...
Anonymous asked: How is your court case going? I ask because I'm a mom of three in a poly family, in a fairly religious state.
Anonymous asked: I have read your postings about the legal battle. Something that struck me was that you write from a very defensive position. I don't know how things went down in court, but it is simply not enough in your case to merely show that you are an equally good parent as your husband. You will have to show that you are as good as him and her together; otherwise courts will not give you a chance...
6 tags
STOP! Go buy this book!
I JUST (as in about an hour ago) finished reading a book that explains exactly why I think the way that I think and act the way that I act in relationships (romantic or otherwise). It's called Attached, by Drs. Levine and Heller. I firmly believe this book should be required reading for polys, right up there with Ethical Slut, Sex at Dawn, and Open. I learned so much about myself, why former...
6 tags
On self-focused pessimism
Ask anyone who knows me, and they'll confirm that I'm an optimist. I tend to view life through rose-colored glasses (sometimes to my detriment). No matter how bad the news, it's rare for me to be down about it for any real length of time. I bounce back fairly quickly, because I can pretty much always see the bright side. Side note: my favorite movie growing up was Pollyanna....
5 tags
Foamy 2012!
7 tags
Boosting the signal on an amazing blog post...
This. Oh, this. http://tacit.livejournal.com/378670.html It's not that new relationships aren't threatening to existing relationships…they ARE. It's how you handle it that makes the difference. Particularly these lines: "…adopt a policy of resilience—to know that even if things change in my relationship, I will be OK. Another is to advocate for my needs;...
4 tags
On filling the silence...and the damage that can...
In response to a post of mine in which I mentioned I was struggling with some baggage and insecurities as a result of my divorce, a very dear friend sent me this blog post. It's about what some of us do in the void between communications, and how very damaging we can be to ourselves.  What do you project into the silence?  That blog post is spot-on. When there is no communication, when...
1 tag
#Faces of Polyamory
From the ModernPoly tumblr feed: #FacesOfPolyamory We want to create a world where everyone can be open about their relationship choices - without worrying about losing jobs and losing children. We want to show the world that polyamorous people are normal, stable, healthy, friendly, contributing members of society. And we're cute too! After presenting this idea at a poly potluck last night,...
5 tags
They're ALL my favorites...or, why I suck at...
Saw this post on one of my poly FB groups and simply HAD to share it. Perfect illustration of non-hierarchical poly.
4 tags
And now for something completely different!
This here video is me, performing at the 2012 Emerald City Comic Con in the karaoke contest. I didn't do too badly, considering I was scared out of my gourd to be singing in front of so many people! The largest audience I'd ever sung in front of before is about 50. This room was the same room the con put George Takei into for his panel. I would guess there were at least 2,000 people in...
7 tags
On expectations, and hierarchy
Seen on Facebook, and I couldn't agree more: A sane, healthy, complete person does not 'need' anyone to do anything for them. They are able to feed, protect, shelter, care for and love themselves by themselves.  Someone that seeks a relationship to 'fill a need' tries to find outside themselves something to fix themselves.  A relationship should be somewhat of a...
6 tags
Consent...it's not just for men.
This blog post about consent is powerful, and has me examining myself very deeply. I think I might be guilty of at least one of these habits. If not, I'm a little too close for my comfort. I'm definitely guilty of not being clear about my "no"…doing something I'm not enthusiastic about, either to please someone or to avoid conflict. I'm aware of THAT...
7 tags
"Rules" vs. "Boundaries"
This topic came up in a thread on a poly Facebook group that I'm a member of. I started to respond, and realized pretty quickly that my thoughts on the subject weren't exactly organized. Apparently I've got some strong feelings about this topic, but I haven't laid them out in an orderly fashion…until now. So prepare for some rambling as I work my way through the tangled landscape that is my...
6 tags
Tolerance, respect, understanding...what it all... →
This blog post, and the others linked to at the end of it, brought me to tears. This is exactly the philosophy I try to live daily, and the hateful, bullying Christian is the mother I grew up with. It somehow makes it worse that she comes from a place of love with her bullying…but this message of never being simply loved unconditionally resonates so very deeply with me. Why is it so hard...
4 tags
On Being Insecure →
Brilliant article about insecurity, shaming, and holier-than-thou attitudes in poly. Wow, this has made me think.
4 tags
What is love?
Got a forward today with a list of kids' definitions of love. These are my favorites: "When someone loves you, the way they say your name is different. You just know that your name is safe in their mouth." "Love is what's in the room with you at Christmas if you stop opening presents and listen." "If you want to learn to love better, you should start with...
4 tags
Discovering the scenery...
I'm only a few weeks into my new attitude about dating and life in general, and it's making a MASSIVE difference in my outlook.  For the past six or so months, I've been so focused on what I've lost. Every time a milestone occurred (holiday, anniversary, birthday), I was unable to keep myself from comparing where I am now to where I was a year ago. And it was excruciating. ...
4 tags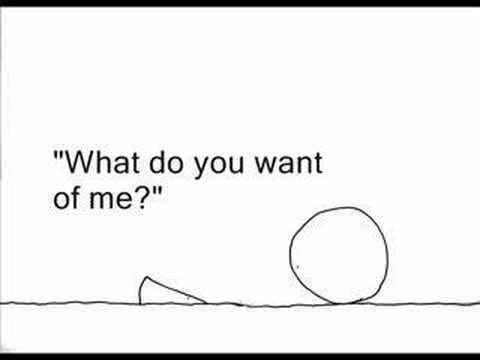 6 tags
Handing over the reins...
I've adopted a whole new strategy when it comes to dating, based on something a friend tried that worked for her. And it's already making a huge difference in my outlook.  Let me back up a bit here…what my friend tried was to decree to herself that for a period of time, she would accept all invitations for first dates that came her way (regardless of interest or lack thereof),...
5 tags
8 tags
Life is a gift...don't waste it.
When you have five minutes left to live, are you going to waste a single one of them being unhappy?  The above question came out of this blog post I just read, about a woman who is battling Stage 4 cancer…and who is absolutely refusing to let it steal one moment of joy from her remaining time. I have a very dear friend who has also just been diagnosed with cancer, and while it currently...
6 tags
Thick and hard and fast...
…the realizations that are flying at me, you perv. ;) As I continue to process recent relationship events, and what it's all dragged out of the dark, spidery corners of my brain, another gem winked at me today. I made DAMN sure I was ready for a relationship before I began dating again. I did a lot of writing and processing through the breakup of my marriage, my culpability in it,...
6 tags
This is not the blog post I was looking for...
When I said I had another blog post in the works, this isn't the one I intended to write. But events today have put that other post on the back burner. Warning…this is a very personal, heartfelt and painful post for me. I'm being wide open and vulnerable here. Please be gentle with your comments. Also: I'm not fishing for compliments…I would honestly rather hear YOUR...
4 tags
Why birth control is such a huge deal... →
Brilliant and fascinating essay on just what birth control means to our planet, and how big a game-changer it really is.
7 tags
The universe likes to teach me ALL THE LESSONS...
…if I'd only freaking LISTEN. While chatting with a friend today, I mentioned how very important the concept of "fairness" is to me. It pretty much defines how I look at life. If something is unfair, it bothers me, and the more unfair and unbalanced it is, the more I choke on it. I can't watch or read about news stories where someone is taken advantage of, or where...